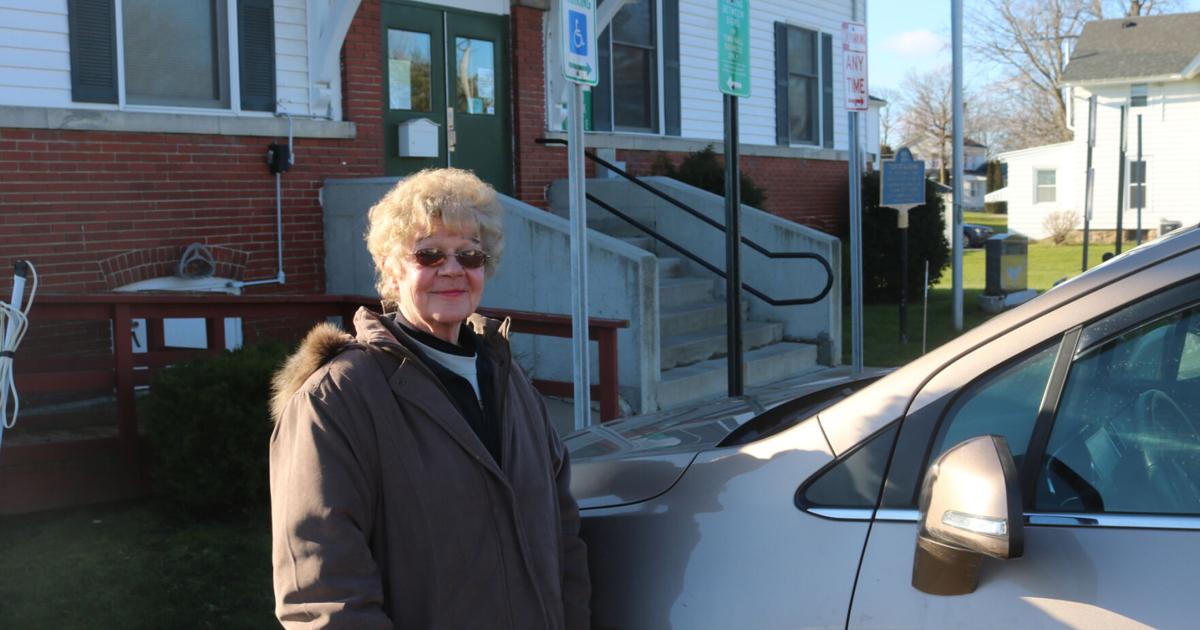 Storm effects persist for some in region | Top story
[ad_1]
OAKFIELD – Knowlesville Road has seen a mix of situations when it comes to the recent power outage and recovery from the outage.
Some residents, like Irene Will, were still without electricity on Tuesday morning. Others, like Eugene and Rita Zybek, regained power that morning after about 2.5 days. Others, like Larry Lamie and Lisa and Mark Wells, have seen their lights blink a few times, but don't go out at all.
For Will, the Alabama City Assessor, who was at work Tuesday morning, how have the last three days been?
She recalled that the National Grid crews were there on Monday night to try and resolve the issue.
"They were there at 10pm last night (Monday) trying to shine the spotlight on those lines to find the break," she said.
In general, she said, she was "tickled pink" with National Grid and what it does.
"You couldn't pay me enough to work in this wind, in this weather with electricity," she said.
Will said things weren't too bad for her, despite being without power for three days.
"I bought a ventless propane heater years ago and brought it into the house two weeks ago for the winter, just in case," she said while smoking a cigarette in front of the Alabama City Clerk's Office. "So all I have to do is turn it on." So, I have heat. I had public water two years ago there, so I have water.
Will said she had a lot of candles and that she had a lot of light.
"What else do you need?" she asked. "And, I had a smartphone two years ago, so I could still go on the internet or chat with people. The hardest part for me was making sure my house had enough light so I could see my black dog and trip over him. You walk around, you turn around and boop, he's there.
"I even have oil lanterns that I used to read on, just like I used to," Will said.
The Knowlesville Road resident said the only complaint she had with National Grid was that the company told her on Sunday morning that her power had been restored.
"I'm coming home from my cousin. It wasn't, "she said. "They told me twice yesterday that the power was on. I received the message while I was sitting on my couch. I look around (and think), "No it's not. Now I have to call back and make sure they still have the connection.
Will said National Grid told him on Monday that his power would be restored at 4 p.m. that day.
Will said she and her neighbors about half a mile from Knowlesville Road were still without power on Tuesday morning.
"It's because that power goes down Roberts Road and those poles are taken off the road as well," she said. "We were using Lewiston Road electricity and they switched us to Roberts Road years ago. "
When asked how his neighbors were doing in the middle of the blackout, Will said, "I can hear three generators running near me, so they're probably good too."
Will said she didn't have to buy bottled water during the blackout.
"I have public water. I drink this. I have a freezer which is in the garage. It's going to stay cold, "she said.
Will said the only concern might be the refrigerator, but added, "There's not much to worry about in that. I don't care much, that's all. Larry Lamie of Knowlesville Road said he never lost power at home. He said a pole near a neighbor's house was tilted, as were a few others nearby. The lights went on and off for about 15 to 20 minutes on Saturday at his home.
Lamie said her neighbors Mark and Lisa Wells both heat with woodstoves and have propane furnaces and back-up generators.
Some of the shingles had fallen from the roof of the Wells house as a result of the weekend windstorm.
"We have never lost power. We've lost the internet, "said Lisa Wells, noting that the lights sometimes turned on and off.
"Things have changed. We have a wishing well in the garden which sits to the side. We didn't notice that, "she said.
While there was no breakdown at the Wells, it was a different story less than a mile away. Lisa Wells said her daughter, Ashley Neyman, who lives in the Lewiston and Knowlesville Highways area, has lost power.
"It's just funny that you're not that far apart." It's probably a mile or less, "said Lisa Wells. "They picked it up yesterday (Monday) around 4:30 p.m."
Lisa Wells said they were at the cinema in Tinseltown on Saturday afternoon at Cinemark Tinseltown in Greece.
"By the time we hit Batavia, Batavia was a nightmare," she said. "We came back through Batavia at 3, 3:30 p.m., somewhere in there.
"We couldn't take normal route 63. They had blocked it. We took Route 98 and were able to go up Townline Road, "she said. "It brought us back to '63, so we were able to bring it home. "
Power was cut to Eugene and Rita Zybek's home around 5 p.m. Saturday, Eugene Zybek said. It was finally restored around 10 a.m. on Tuesday, he said.
"I had a generator and we had food," he said. "We have propane and I can always light the stove… We have plain water so we didn't have to start the pump or anything. We had regular water at all times. We had a cell phone.
[ad_2]