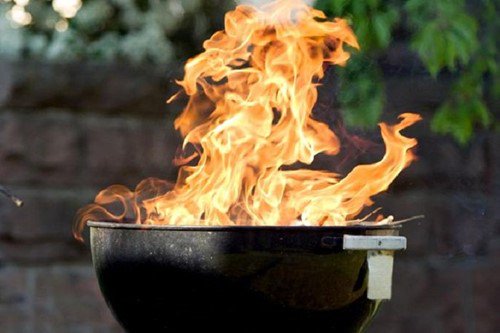 Fire marshal calls for urgent barbecue ban as firefighters feel the effects of unprecedented temperatures
London's fire marshal has called for an urgent ban on barbecues as firefighters continue to feel the effects of unprecedented heatwave temperatures for a second day.
The UK is expected to experience record temperatures of up to 40C today (Tuesday). It comes after days of unusually hot weather which meant an incredibly busy time for firefighters in the capital.
London firefighters have witnessed more than 1,000 grass and open ground fires since the start of June, prompting fire marshal Andy Roe to write to all local authorities in London asking their support in a temporary ban on disposable barbecues in all public parks and open spaces.
Barbecues are one of the most common causes of grass and open ground fires and although many councils have already put in place localized bans, Commissioner Roe has asked for citywide support .
In his letter, Commissioner Roe said: "With no end to the hot weather in sight, I am deeply concerned that the unprecedented scale of these fires is set to continue, putting lives at risk as well as devastating green spaces around of the capital.
"The London Fire Department has issued warnings and safety advice to Londoners throughout the summer, but people continue to behave recklessly and recklessly.
"I now call for a temporary ban on the use of barbecues in all public parks and open spaces and ask for your help in keeping people safe."
While many parks and spaces already have bans and warning signs in place, Commissioner Roe is now calling on all London councils to support a temporary ban and help the Brigade highlight its messages and concerns about barbecues.
As well as following advice on barbecues, people can also help by making sure they ensure their cigarettes are always properly disposed of and that waste, especially glass, is disposed of safely. After so much dry time, even the smallest of sparks can easily start a major fire.
Commissioner Roe said: "As we have unfortunately seen on several occasions so far this summer, it is really dangerous to enter open water.
"We understand that people will be looking for ways to cool off, but the water is colder than it looks and your body can experience a cold water shock which causes panic, anxiety, disorientation and loss of muscle control.
"We're not trying to take the fun out of the heat wave that we know some people are going to enjoy, but it's a very serious situation for many. For the sake of our city – and our firefighters who have to work in temperatures to fight these fires – we would really like people to follow our advice.